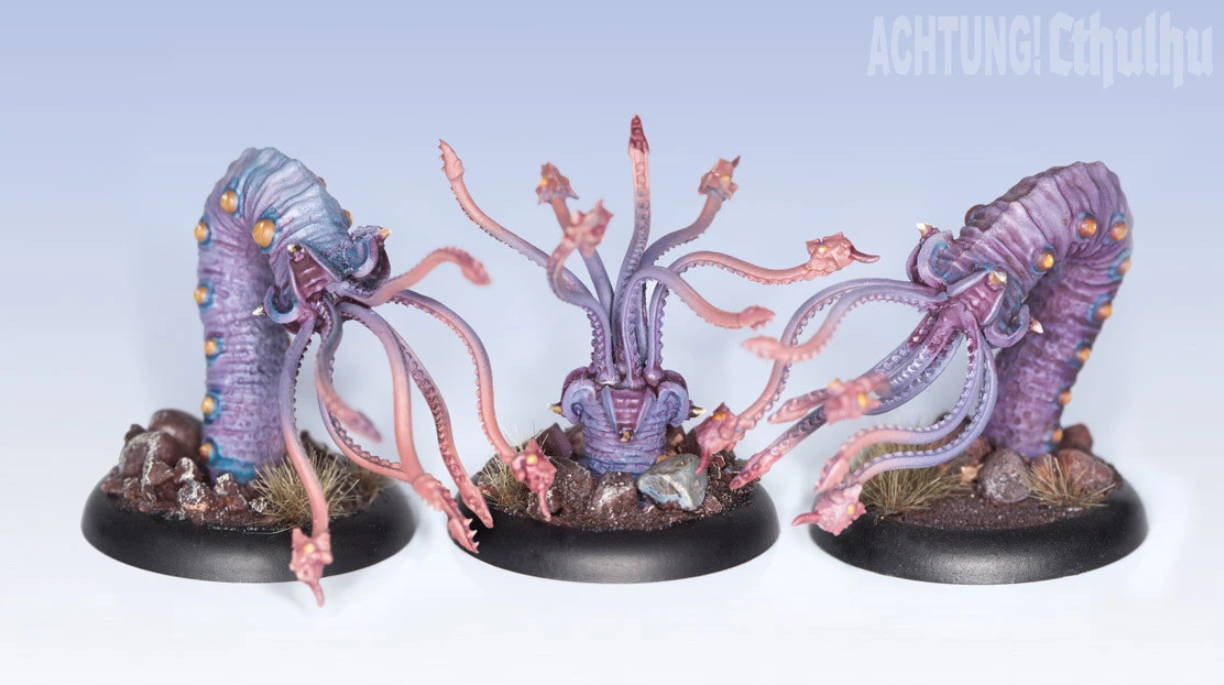 Way back in the mists of time, before I was even aware of what a Modiphius was (well, back in 2013) Chris launched his company with the Achtung! Cthulhu RPG kickstarter.
Some of the stretch goals included miniatures to represent your heros and the terrors they would face on the battlefield. This range continued to expand and develop the backstory of the major players as well as giving them a full wargame to play in with Skirmish.
Since those early days, the miniatures line has somewhat foundered. Modiphius spins a lot of plates and sadly that means stronger projects tend to get priority.
When I joined the company just over two years ago, I immediately found myself attracted to the range. Despite not being a historical wargamer, or having much prior knowledge/interest of the works of HP Lovecraft (I knew a Cthulhu, but beyond that…) something about the combination caught my attention.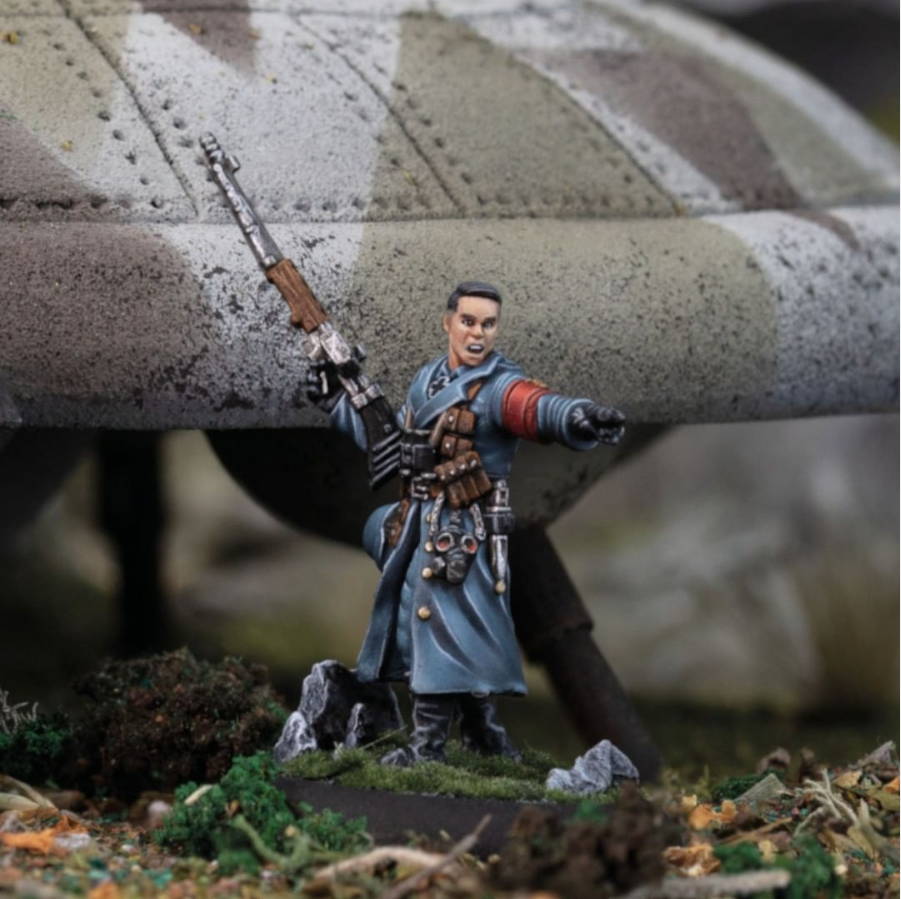 One of the first jobs I undertook was cataloguing and reviewing all the studio models. They had seen some major battles and needed TLC to bring them back to their prime (I never did find Deadman's hand…). Spending that time learning the range and working with the figures cemented my love for the line and I was determined to carry on, working from the solid foundation that had been built.
Chris has a complete story line for the A!C universe. The events of the RPG and Skirmish can be considered the "early" period of the war, with the Black Sun making their play for dominance and the "weird" starting to creep into the war. This cumulates at the battle of the bulge with the events that transpire in the Ardenne moving us into the "middle" war. The long touted Bye Bye Baby phase of the project details this next period and is where history and our version of it start to diverge.
Hopefully the forthcoming 2nd edition of the A!C RPG will be a roaring success and these secrets will start to emerge.
But what does all this mean for the miniatures range and Skirmish as a rule set.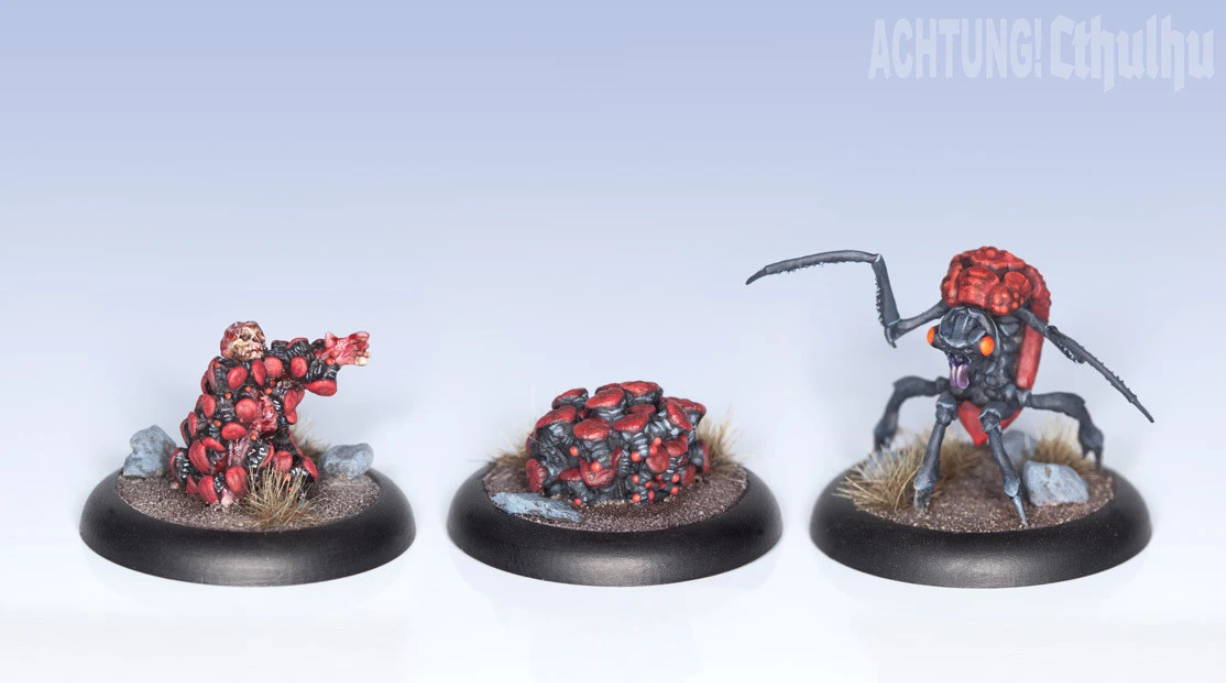 It may have escaped notice that I've been working with our design team to create some new miniatures for the line. This started by me wanting to finish up the various missing profiles in the Skirmish core book. Other than the Investigators unit (which can be represented by any of the hero models currently not featuring in your list), this effort is now completed. If nothing else, that means Skirmish can be considered "complete". If we never release another model then players can finally field all the options presented, be that our mythos inspired figures or the various ranges of 28mm WW2 figures available.
I also put together a new rule set, in Combat. Designed to allow players who favour large scale battles a chance to use more of their models and hopefully put on exhibition games at shows, the ruleset is very stripped back but hopefully makes for an interesting alternative way of playing with your forces.
There have also been two new models released (or about to be) in the Black Sun Officer and the Auserwhalten. The intent with these was to finish off the first phase of the Black Sun advance and be able to present a complete army using our miniatures.
There are other troops sculpted, including the first meaningful releases for the Nachtwolfe, which as Mina executes her plan and more of her mysterious back story is revealed, will allow players to field this new force.
However, sales of the range have stalled. Few stores carry the line and while there are die hard players out there (thanks for your ongoing support) in the current climate where everyone has a game in them and kickstarter is allowing them to break out, it's hard to justify ongoing investment in the line.
As such, I've been doing some behind the scenes tinkering and have a plan (it may not be a cunning one, but you never know). The first step to rehabilitating the line is to make it no longer available through distribution or stores. Now, a retail presence is a huge boost to a game, supporting local stores and having a vibrant gaming group really are vital in keeping a game live. At present, A!C no longer reaches enough people to allow that to be realistically viable.
Thus taking the decision to bring the entire range back in house and making it direct only does reduce our reach, but it also allows us to offer better prices. When selling product through retail and distribution, the profit pie is split three ways. By bringing the range in house and making it more of a specialist range, we can reduce prices by a sizeable chunk as we no longer lose percentages to distribution and stores.
Effective immediately, the price of the entire miniatures range has been dropped. Unit packs are now £20 (saving you £15) and troop blisters are now £10 (a saving of £4). Hopefully these price drops will make the range enticing to new players who don't have to take such a big risk jumping in as well as encourage vets to round out and reinforce their languishing armies. Also, we recently reduced shipping to the US and UK by 20% so while postage is still a factor when ordering direct, the price drop should more than cover any shipping costs, especially if you order more boxes (subtle right…).
There will also be some army bundles coming to the store soon, allowing players to add a one click platoon of Black Sun, Badgers Commandos or Deep One hunting party to their collection. These will offer a further discount.
In terms of rules, we have continued to tinker behind the scenes. There is a draft of a new version of Skirmish that scales the game back to small elite crack teams of individual characters and I'd certainly like to develop a more polished version of Combat that treads the line between the scale of the current version and the crunch of the original Skirmish rules.
Depending on the results of our efforts, hopefully there will be some traction with players and we can move forward, releasing the new troops for all the existing factions, as well as adding some new ones (the Mi-go have been planned as a much broader range with all sorts of weird alien ideas, John H and I have had fun cooking up madness there).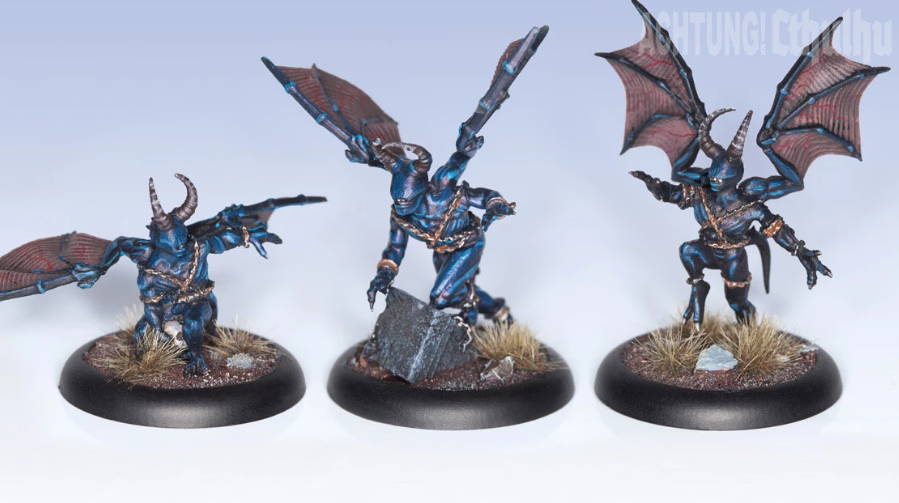 So, what can you do? If you enjoy the universe, games and models, then hopefully you will consider picking up some of the new products (at lower prices). Tell your friends, run some pick up games and see if you can help spread the word about us.
If you don't specifically play AC, not to worry. We will continue to make our models compatible with other 28mm ranges, so no matter the WWW or pulp system you run, then hopefully there are some figures here for you.
Keep on posting in our facebook groups, forums and on the various wargaming sites and forums. No game survives without a playerbase and I'm keen to keep the game and range alive and reward those dedicated players for their long wait.
Drop me a line via support@modiphius.com if you have thoughts (good or bad, but please be polite). Let's all fly the flag for the secret war so we can move into the next phase and unlock some more of those mad creations and larger than life heros to do battle with.
Thanks for reading.
Jon Webb
Head of Wargames.